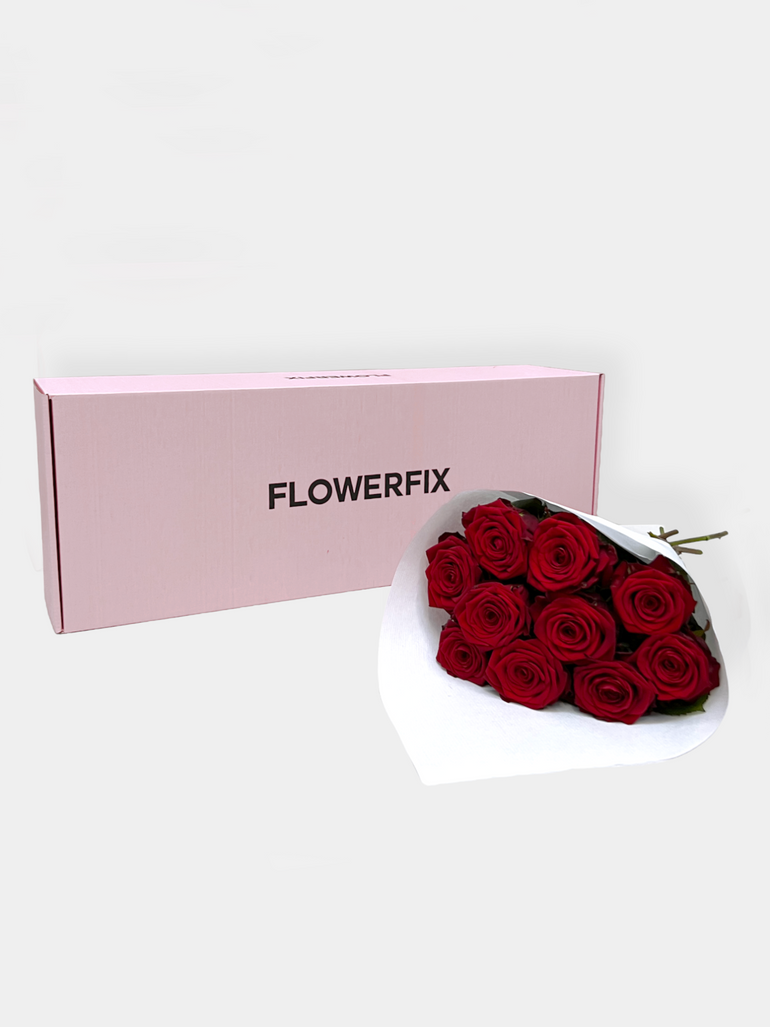 Description

Inside Me

What to Expect
Meet our Naomi red roses, striking red velvet feel roses with the most divine scent.
Wrapped beautifully in our signature style, housed in our gorgeous pink box, they'll be jumping for joy.
Enough talk. Let's get creative.
10 stems of luxury Red Naomi Roses.

Stem Length: 55cm
Fresh Stock, always. Our flowers are grown to order, we don't hold stock.
Arrives in Bud wherever possible to maximise vase life. Perks up in just 48 hours.
Our flowers are sourced from trusted and sustainable growers.
Free nominated-day delivery for all Flowers. Tracked Delivery as standard, upgrade to premium delivery by 1pm at checkout.
Free Greeting Card and Message or upgrade to one of our funky cards.
Recyclable and Letterbox Friendly packaging.
Earn up to £3.04 GBP when you purchase this product.
Often asked...
How to Care for me
We send you a "how to" booklet in the box and some flower food for fresh flowers. All you need is a vase, some water (fresh flowers only) and a pair of really sharp scissors
How to Arrange me
We send you a "how to" booklet in the box. We'll become flower fairies together.
Q. Will the flowers come in water?
A. This is our little secret! We're the ONLY letterbox flower company who pack your flowers with care. For your peace of mind, we use a magically formulated solution to keep your flowers fresher during transit.
Q. I can't arrange flowers to save my life...
A. Hunny, don't worry, we've got this together. We'll show you a few tips and you'll explore the magic in your fingers.
Q. What type of vase do I need?
A. Whatever floats your boat, but we do recommend a vase with a narrow neck. Wide neck vases will mean your flowers will drop to the sides (we don't want that). Instead opt for something like the one we've displayed the flowers in. We've sourced the perfect vase for your flowers, just click HERE
Q. When do I need to order by?
A. We order the Freshest Flowers around town.
This means we need your order by 10pm.
Example: Order by 10pm Sunday for Free Delivery on Tuesday.
Q. Will it fit through the letterbox?
A. Whilst advertised as Letterbox Flowers, our boxes will fit through 90% of Letterboxes. Unfortunately, some letterboxes are smaller and/or you have a wall mounted letterbox which is far too small to contain our box. Royal Mail will attempt delivery to yourself, a neighbour or a safe place is possible. If all of the above has been exhausted, Royal Mail will take the item back to the depot where you will be responsible to collect. We are unable to take any liability for non-delivery.
Our Expert Florist
Our founder LK VERDANT, has developed a reputation in the world of florals. Showcasing and arranging for some of the world's most reputable brands. It's no wonder she's collaborated with Vogue and seen in Grazia.
Her vision is simple, the most fashionable, instagram-worthy flowers, sent to you by post without the luxury boutique price tag.
Best flowers by post with free delivery
Looking to send the best flowers by post? Letterbox flowers are a great option when you want to send a beautiful floral gift that will fit right through the letterbox. Not sure if they'll be home? Letterbox flower deliveries makes gifting convenient. The bouquets are specially designed to arrive in bud and bloom once received. This allows the flowers to be compact enough to post while still opening up to full, gorgeous arrangements.
Specialising in pet friendly gifts. For pet friendly letterbox flowers, we choose varieties like roses, eustoma, spray roses and snapdragons that are all non-toxic for cats and dogs. The bouquets are wrapped in recyclable paper and box, for a mess-free sustainable delivery. With beautiful letterbox flowers delivered direct through the letterbox, you can conveniently send the best flowers by post.
Our promise
It's simple... If it's not good enough for us, it's not good enough for you. So if something isn't 100% right, just drop us a little message HERE.
We'll only pick the flowers we love. Our Expert Florist is featured in Vogue and Grazia for Luxury florals. So we're re-defining letterbox flowers to bring luxury flowers, for great prices.