Pampas - Beige comes in stems of 4 is our fluffiest natural pampas yet, with its distinct waterfall effect. Style up winter nights with cosy essentials. Designed with little maintenance in mind, a favourite Home accessory of ours and we're confident it will be of yours too.
Note: Colours may vary due to natural drying processes. For example, the pampas grass may be of a different shade, ranging from a light to darker shade. 
INSIDE ME
x4 Pampas grass in beige
FREE DELIVERY
Delivery Absolutely FREE. Promise.
HOW TO CARE FOR ME
No need to water, we kept little maintenance in mind for this one. Occasionally dust using a soft brush.
HOW TO ARRANGE ME
Go Wild baby, you decide what looks good
Our Expert Florist is featured in
Our Expert Florist
Who is she?
Our founder LK VERDANT, has developed a reputation in the world of florals. Showcasing and arranging for some of the world's most reputable brands. It's no wonder she's collaborated with Vogue and seen in Grazia.
Her vision is simple, the most fashionable, instagram-worthy flowers, sent to you by post without the luxury boutique price tag.
Learn more
Reviews
Customer Reviews
26/02/2022
Rebekah G.

United Kingdom
Amazing product and A*** service!!!
I messaged Flowerfix about their pampas grass as I'd been after some for ages that were big and had the wow factor but we're real dried ones not artificial! I messaged and asked the size, I got a reply within minutes, then the day after I received a message saying I can see your local to us if you'd rather we can hand deliver and leave them at their full length for you to trim down as you want them! To which I replied yes please amazing!!! They were here that evening hand delivered looking stunning and I didn't even need to trim them down they were the perfect length and are absolutely beautiful and have such a wow factor!!! Another amazing product from the Flowerfix family and such gorgeous service!!! Thankyou!!!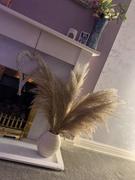 Highlights
Pink mail is Happy Mail. Letterbox Flowers delivered to your door in our Beautiful eco-friendly packaging.
Handpicked for Freshness
Securely wrapped to get to you beautifully.
Happiness Guaranteed
How to Care for me
No biggie here, just keep me away from direct sunlight, water, moisture and draughts and I'll last months. Cos' I'm dried, I may shed a little and discolour too.
How to Arrange me
Go wild babe, there's no rule here. Fill it up to create a head turner, or just a few stems for the modern, minimal look.
FAQ
Q. Are they real?
A. Yes, all flowers are 100% real, naturally dried to last for years.
Q. I can't arrange flowers to save my life...
A. Hunny, don't worry, we've got this together. We'll show you a few tips and you'll explore the magic in your fingers.
Q. What type of vase do I need?
A. Whatever floats your boat, but we do recommend a vase with a narrow neck. Wide neck vases will mean your flowers will drop to the sides (we don't want that). Instead opt for something like the one we've displayed the flowers in. We've sourced the perfect vase for your flowers, just click HERE
Q. Will it fit through the letterbox?
A. Whilst advertised as Letterbox Flowers, our boxes will fit through 90% of Letterboxes. Unfortunately, some letterboxes are smaller and/or you have a wall mounted letterbox which is far too small to contain our box. Royal Mail will attempt delivery to yourself, a neighbour or a safe place is possible. If all of the above has been exhausted, Royal Mail will take the item back to the depot where you will be responsible to collect. We are unable to take any liability for non-delivery.
Delivery
Free, Fast Delivery
That's right, always with FREE Delivery.
Need a hand?
We're always about to give you as much info as you need. Just drop us an email and we're all ears.
About us
We love flowers here, there and everywhere in our home, place of work, just everywhere.  What we love more is arranging them, it's a fun and stress free part of the day. That's why we want to offer them to you.
We developed FLOWERFIX to do just that, beautiful fresh flowers for your home and workplace. We've developed our offering, where Luxury meets Affordability. No nonsense, proper flowers you can enjoy for weeks. We've seen far too many times where flowers just don't cut it, so our flowers, well... They look pretty but actually smell like flowers too. We choose beautiful fresh flowers each week, and post them through your letterbox. Our promise means that your flowers are the freshest they can possibly be, so that you get to enjoy them for longer.

The amazing thing is, you may not even have to be home! Your blooms will be posted through your door just like regular post. Cool right? We think so.

So, what makes us different?

Well, for starters we use a MAGIC FORMULA created by our Expert Florist, keeping your flowers fresh throughout their journey.
Follow your guide and flaunt your beautiful flowers to the world.
OUR PROMISE
It's simple... If it's not good enough for us, it's not good enough for you. So if something isn't 100% right, just drop us a little message HERE.
We'll only pick the flowers we love. Our Expert Florist is featured in Vogue and Grazia for Luxury florals. So we're re-defining letterbox flowers to bring luxury flowers, for great prices.