Woohoo it's that time of year again! The star of the show, Peonies are back for spring! The Peony Bunch Bouquet is what you see on screen. A minimalist bunch with gorgeous fluffy peonies + Eucalyptus. A luxury worth every penny. Over the next few days discover the gorgeous bloom of peonies filling up your entire vase, then fading in colour to a soft peach. It's quite remarkable.
Order online now and get Free Delivery. A premium range flowers with the smallest price tag. ;)
Psst. Our Florist is featured in Vogue + Bazaar!
Enough talk. Let's get creative.
HIGHLIGHTS
 - Pink mail is Happy Mail. A stunning Bunch of Letterbox Flowers delivered to your door in our Beautiful eco-friendly packaging.
- 5 stems of stunning coral peonies and a bunch of Eucalyptus
- Handpicked for Freshness
- Securely wrapped to get to you beautifully.
- We use a magic formula to give you longer lasting flowers.
- Happiness Guaranteed
INSIDE ME
5 x Coral Peonies
1 x Bunch of Lush foliage
Sorry the vase is not provided :( but you can grab the perfect HERE
Our Expert Florist is featured in
Our Expert Florist
Who is she?
Our founder LK VERDANT, has developed a reputation in the world of florals. Showcasing and arranging for some of the world's most reputable brands. It's no wonder she's collaborated with Vogue and seen in Grazia.
Her vision is simple, the most fashionable, instagram-worthy flowers, sent to you by post without the luxury boutique price tag.
Learn more
Customer Reviews
12/05/2022
Wendy H.

United Kingdom
Peonies
The ordering was simple. Unfortunately Royal Mail didn't deliver on the day they were meant to (even though the Royal Mail sent me an email which said they were going to be delivered that day - presumably staffing issues still). The recipient was really pleased with the flowers - she loves peonies.
11/05/2022
v B.

United Kingdom
Amazing peonies amazing value
I ordered the coral peony box and they are amazing. The flowers all opened and kept going for 10 days!
11/05/2022
Safiya M.

United Kingdom
Beautiful blooming Peonies
Not had much luck with peonies in general in the past but when Flowerfix had them in I couldn't resist. I am so glad I purchased them, my mum can't stop raving about them. I will definitely be purchasing them again. Thank you Flowerfix for the gorgeous blooms.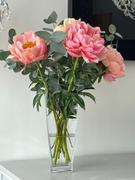 How to Care for me
We send you a "how to" booklet in the box and some flower food for fresh flowers. All you need is a vase, some water (fresh flowers only) and a pair of really sharp scissors
How to Arrange me
We send you a "how to" booklet in the box. We'll become flower fairies together.
FAQ
Q. Will the flowers come in water?
A. This is our little secret! We're the ONLY letterbox flower company who pack your flowers with care. We really don't need to, but for your peace of mind (+ ours), we use a magically formulated solution to keep your flowers fresher during transit.
Q. I can't arrange flowers to save my life...
A. Hunny, don't worry, we've got this together. We'll show you a few tips and you'll explore the magic in your fingers.
Q. What type of vase do I need?
A. Whatever floats your boat, but we do recommend a vase with a narrow neck. Wide neck vases will mean your flowers will drop to the sides (we don't want that). Instead opt for something like the one we've displayed the flowers in. We've sourced the perfect vase for your flowers, just click HERE
Q. When do I need to order by?
A. We order the Freshest Flowers around town every Sunday, Monday and Thursday.
This means we need your order by 7pm.
Example: Order by 7pm Sunday for FREE delivery on Tuesday.
Q. Will it fit through the letterbox?
A. Whilst advertised as Letterbox Flowers, our boxes will fit through 90% of Letterboxes. Unfortunately, some letterboxes are smaller and/or you have a wall mounted letterbox which is far too small to contain our box. Royal Mail will attempt delivery to yourself, a neighbour or a safe place is possible. If all of the above has been exhausted, Royal Mail will take the item back to the depot where you will be responsible to collect. We are unable to take any liability for non-delivery.
Delivery
Free, Fast Delivery
That's right, always with FREE Delivery.
Order tracking
Tracked delivery as standard so you can follow your flowers wherever they go.
Need a hand?
We're always about to give you as much info as you need. Just drop us an email and we're all ears.
OUR PROMISE
It's simple... If it's not good enough for us, it's not good enough for you. So if something isn't 100% right, just drop us a little message HERE.
We'll only pick the flowers we love. Our Expert Florist is featured in Vogue and Grazia for Luxury florals. So we're re-defining letterbox flowers to bring luxury flowers, for great prices.